Just a few weeks ago, BYU women's volleyball coach Heather Olmstead remarked how grateful she was to lead one of 64 teams in the country into practice for another week.
Fast forward to Monday, and the Cougars once again turned on the lights in Smith Fieldhouse for practice — only this time, one of just four teams nationally that still have a shot at an NCAA title.
And what a ride it's been.
After wins over Stony Brook, Utah, Florida and No. 5 Texas in Provo, the Cougars can turn their attention to the biggest stage in collegiate volleyball — the NCAA national semifinals, which will tip Thursday at the Target Center in Minneapolis, Minnesota.
Mathematically speaking, the fourth-seeded Cougars (31-1) has a 25 percent shot at a national title, along with No. 1 Stanford, No. 3 Illinois and No. 7 Nebraska — three powers in the world of women's volleyball.
BYU will be up there with them.
"I'm so excited for our team," Olmstead said. "I'm proud of the season they've had and put together. I'm happy for the way they've been playing. To head into the Final Four playing as well as we have, I don't think there is anything better than that."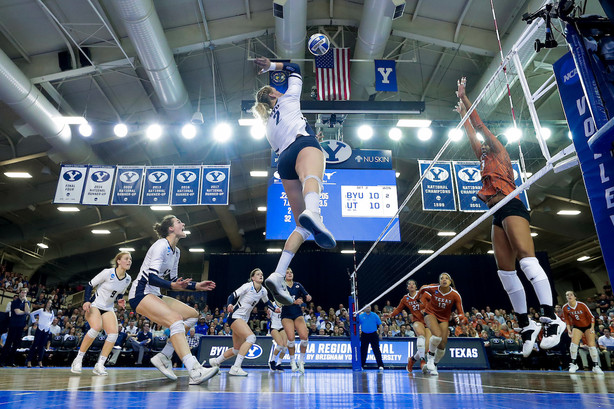 The Cougars will tip Thursday at 5 p.m. MT on ESPN against the Cardinal (32-1), whose only loss of the season came back on Aug. 31 in BYU's five-set win in Provo.
"I expecting a really good match," outside hitter Roni Jones-Perry said. "They're a super good team. I think it will be a different match than it was in August. It's been a really long time."
Both teams have changed since then. But several at the time pointed to that match as a potential precursor in Minneapolis.
And here it is — not that the Cougars have been counting.
You see, this team has done a remarkable job of staying "in the moment," citing it in every post-match press conference, every game notes, and every pre-game huddle before stepping on the court.
The present is all that matters, the Cougars say, and that present has put them in position for the school's first volleyball title.
"I haven't been following them," fifth-year senior Danelle Stetler said of Stanford. "I know they've gotten better, just like we've gotten better. So that will be fun, to play them when they play well. We want to play well, too."
That's not to say they haven't enjoyed every win along the way, especially in the tournament. Olmstead recalled a few celebrations that "will definitely be remembered for the rest of our lives" after wins over the Gators and Longhorns, for example.
"We enjoyed it," Olmstead said. "But we were definitely curious who our next opponent was going to be, and it really came down to getting to play another match.
"We get to fill another practice on Monday and keep getting better this week. But the whole celebration was incredible."
Source: KSL