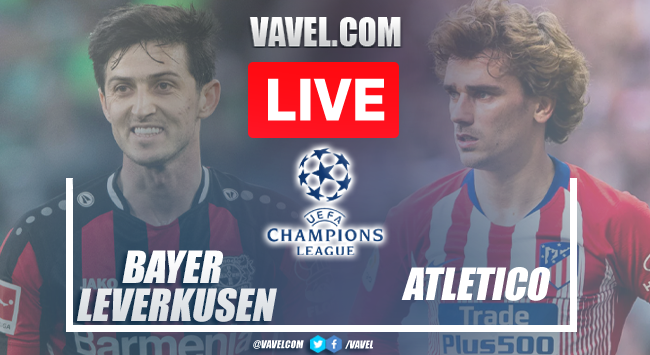 92′
Griezmann's shot is blocked by Hincapie.
87′
Goal, goal, goal for Bayer Leverkusen! A great run by the home team, a great shot for Diaby who finishes in great form to score the second.
84′
Goal, goal, goal for Bayer Leverkusen! Andrich shot from outside the box and opens the scoring.
80′
Griezmann's header for Llorente, but he ends up losing the ball.
70′
Schick came close to opening the scoring, but failed to score correctly.
63′
Atletico's change. Carrasco and Griezmann are substituted by Mandava and Molina.
53′
Good clearance by Grbic, avoiding the arrival of the locals.
46′
Atletico's change. Ñíguez comes out for De Paul
45′
The second half restarts at the BayArena
45+1′
Halftime in Leverkusen, the score is still not open for either team.
42′
Félix's cross, but the ball is blocked by the defense.
32′
Hermoso's cross and Felipe tries to shoot at goal, but the ball goes wide.
27′
Atletico's cross is blocked to prevent the home team's first goal.
18′
Centro de Llorente, pero nadie aparece dentro del área.
9′
Back-and-forth match, both seek to generate danger in the opponent's goal.
0′
Leverkusen action gets underway
Atletico: LineUp
Grbic; Molina, Felipe, Hermoso, Witsel, Reinildo; Marcos Llorente, Koke, Saúl; João Félix, Morata.
Bayer: LineUp
Hradecky; Kossounou, Tapsoba, Tah, Hincapie; Andrich, Demirbay; Diaby, Hlozek, Hudson-Odoi; Schick
To the court
Both teams are already on the field warming up before the start of the match.
At home
Bayer Leverkusen are already at the BayArena and will be looking to make it three points and give a good performance tonight.
Present
Atlético de Madrid has already arrived at the Leverkusen stadium and will be looking for their second victory.
They did not negotiate!
Despite rumors of a possible return of Griezmann to Barcelona, from Atletico ruled out his departure.
What a tip
Since 2020, Atletico has not won two consecutive victories at this stage of the Champions League.
Watch out for the data!
Atletico have lost six of their last seven matches in Germany, so they will be looking for a victory.
Out!
Oblak won't even be on the bench for this match, what a surprise.
We're back!
We're back for a minute-by-minute coverage of the match between Bayer Leverkusen and Atlético de Madrid. We will shortly share with you the most relevant information, as well as the confirmed lineups.
Stay tuned for the Bayer Leverkusen vs Atletico Madrid live stream.
In a few moments we will share with you the starting lineups for Bayer Leverkusen vs Atlético Madrid live, as well as the latest information from the BayArena Stadium. Keep an eye on the action with VAVEL's minute-by-minute live online coverage.
Where and how to watch Bayer Leverkusen vs Atlético Madrid online live stream
What time is Bayer Leverkusen vs Atlético Madrid UEFA Champions League group stage matchday 2?
Atlético Madrid Statements
How does Atlético Madrid arrive?
How does Bayer Leverkusen arrive?
The match will be played at the BayArena Stadium.
The match Bayer Leverkusen vs Atlético Madrid will be played at the BayArena Stadium located in Leverkusen, Germany. The stadium has capacity for 30 010 people.
Welcome to VAVEL.com's coverage of the 2022 Champions League match: Bayer LEverkusen vs Atletico Madrid Live Updates!
My name is Lore Solórzano and I'll be your host for this game. We will provide you with pre-game analysis, score updates, and news as it happens live here on VAVEL.