The Tokyo Olympics is right around the corner. Swimming will be one of the most-watched sports at the summer games and there are plenty of world-class athletes who are expected to win medals this year. Among them is Caeleb Dressel, but as of now, it seems like his supremacy at the 100m freestyle is under threat!
ADVERTISEMENT
Article continues below this ad
There is a reason why this statement is being made. Caeleb Dressel is touted to win gold medals in every individual event he enters at Tokyo Olympics 2021, but the 100m free might not be straightforward after all.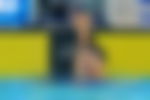 There are a lot of talented swimmers who will rub their shoulders alongside Dressel. One of them would be 16-year-old Romanian David Popovici. For those who are new to seeing this name, Popovici holds the junior records in both the 100m and 200m freestyle events.
ADVERTISEMENT
Article continues below this ad
Caeleb Dressel reacts to David Popovici posting fastest 100m free time in 2021
Caeleb Dressel will enter the Tokyo Olympics and swim in the 50m free, 100m free, and 100m butterfly events. These are his three individual events, and the 24-year-old is highly expected to reign supreme in all of them.
However, David Popovici recently stole Dressel's thunder by posting a time of 47.30 in the 100m freestyle at the 2021 European Junior Championships. Popovici also broke his own individual record during the process. Furthermore, this is the fastest time in this event in 2021.
"So yeah, I mean, it definitely grabbed my attention. I certainly was not going that fast at 16 so that's extremely impressive and how he's swimming it, I think it's even more impressive. You know, when I was 100 free as a 16-year-old it was just how fast I can go out. But the kid's coming home. I think he was 24.3 coming home something like that, which is crazy. So yeah, it's a very legit time," Dressel mentioned in a recent press conference.
ADVERTISEMENT
Article continues below this ad
Grabbing the attention of Caeleb Dressel is certainly a major achievement for David Popovici. But beating him at the Tokyo Olympics 2021 would be even greater. The 16-year-old is certainly ready for the big stage.
"I am aiming for the Olympic podium." These were Popovici's words after breaking the junior world record. Do you think he can outswim Dressel at the Olympics?
ADVERTISEMENT
Article continues below this ad