The later game, also in Group A, is the first-ever Afcon meeting between Cape Verde and Burkina Faso. Cape Verde can qualify for the last 16 with a win, while a win for the Stallions would put them in control of second place in the group.
Burkina Faso coach Kamou Malo is back with the team after missing the loss to Cameroon with Covid-19. "We will play with all our strength to win this match and go as far as possible," he said before the game.
Cape Verde edged out Ethiopia in their opener but are planning a different approach, according to assistant manager Humberto Bettencourt. "We will play a different game than the first match to try to secure a place in the next round of competition."
Righto, that's the end of me for today, but stick around for reaction and our match report. Ta-ra.
I don't think Cameroon are the best side in the competition – they don't have the superstars that others do – but they're confident, grooved and at home. Most likely, their defence will eventually cost them, but if their big boys play as they're playing, it might be enough. In particular, André-Frank Zambo Anguissa is an absolute player.
Cameroon are through to the knockouts! That was a bazzer of a game, to which the contribution of Ethiopia should not be forgotten. But they're paying for losing to Cape Verde, while the hosts go marching on and look a serious threat to their guests.
90 min And as I type that, the ball breaks to Fai – who I ought not to have omitted from that list in the previous post – and as he sets himself for a shot from 20 yards, he slips and still guides it against the foot of the near post! He's so composed in possession, never trying to whack the cover off it but using the pace of the ball and feel of his feet to make happen what he wants to happen.
89 min Cameroon look dodgy at the back, but when they attack they commit to it, and in Anguissa, Ekambi and Aboubakar, have game-breakers able to breach any defence.
87 min Oh Yohanes! Ethiopia win it high up and Solomon crosses for Nasir, who can't control, but the ball carries on to Yohanes, on the far side of the box and he must score! But Onana is out quickly, and he sweeps his finish over keeper and bar!
86 min Ah, it took a deflection, and when the corner comes in it's only half-cleared, dropping onto Hongla's laces … but he can only thrash a shot over the top!
85 min Anguissa, who's been excellent again, glides in off the left, eases inside, and slams a shot high and wide.
84 min Change for Ethiopia, Gebremichael replaced by Kebede.
82 min I said we're just getting started, and tomorrow we've got a huge game – Ghana, who lost to Morocco, are playing Gabon, who beat Comoros. That should be a banger.
80 min "Despite my national team not qualifying this year," says JL Kasanga of DR Congo, "I have really enjoyed watching this match (and the tournament) neutrally. Afcon never disappoints!"
Agreed. I actually thought DRC were one of the most fun sides to watch in the last competition, and we're just getting started here. Also, the hosts doing well is good for any tournament.
77 min No hat-trick for Aboubakar either – he's replaced by Bahoken – and Oyongo replaces Tolo.
75 min Reshid goes in with the double-footed hitchkick, ploughing through ball and Siliki. He catches a bit of the man too, and in the Premier League, that's close to a red card never mind a yellow, but the ref lets things slide. I can't say I object, but on the other hand, if those challenges were uniformly allowed, there'd be more nasty injuries than there are.
74 min I should reiterate, this has been, for the most part, a close game. But those two goals in two minutes finished it off which is, I suppose, another way of saying that ultimately, Ethiopia have had no answer to Cameroon's superior firepower.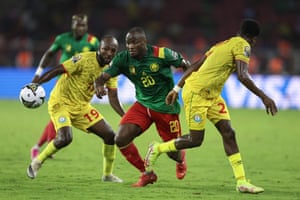 72 min A triple change for Ethiopia, Mohammed, Yusef and Hotessa going off with Melayu, Reshid and Gugesa coming on.
71 min This could get messy I'm afraid, and here's Abounakar, benefitting from a wild lunge from Anguissa to stick him in … and the resultant shot clatters the near post! Then the flag goes up and Tamene, upon whom the wild lunge was perpetrated, studs catching metatarsus, accepts treatment.
69 min Cameroon send on N'Jie and Ganago Ngamaleu and Ekambi – no hat-trick for him.
IT'S A BRACE FOR EKAMBI TOO! Ethiopia are finished, and Anguissa glides through midfield then slides a ball ahead of Ekambi, down the left of the box. Tamene and Debebe think he's going to hit it, so he ducks inside as they slide into oblivion, then drags a Solskjaer-style finish inside the near post. Lovwly goal!
66 min Ngadeu is late on Nasir and there are minor verbals, but it's a bit late for that and they're half-hearted.
65 min So far, there've been 16 goals in Afcon – I think – and Vincent Aboubakar has notched four of them.
63 min Ethiopia have barely been out of their half since conceding the second goal.
62 min Aboubakar picks up a loose ball outside the box and times a lovely through-pass to Ekambi, in on goal. But Shanko gets out really well to block the shot behind with his midriff, and I think there was a prior deflection off Debebe too.
61 min Onana gets a going-over for timewasting, and I notice that his top is a really gorgeous shade of blue – I don't think this photo does it justice.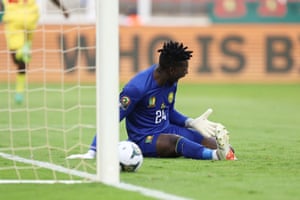 60 min Incidentally, I learnt a lot about Ethiopia from a book I read while I was away, Nadia Owusu's Aftershocks.
59 min Siliki's corner is a good one and Ngadeu is up up early, but Shanko flies out to punch away, then the flag goes up.
58 min Cameroon are after more goals, Shanko tipping away Ekambi's drives then Siliki having a shot deflected behind. It's harsh on Ethiopia, who've played well and started the second half in the ascendancy, but really they're paying for losing to Cape Verde.
57 min The celebrations go on for quite some time, then Cameron send Siliki on for Choupo-Moting.
CAMEROON ARE GOING THROUGH TO THE KNOCKOUTS! They sweep forward in numbers, Choupo-Moting finding Ngamaleu down the right, he crosses low, and Aboubakar gobbles up the finish from five yards for his fourth goal in two games! There's that momentum!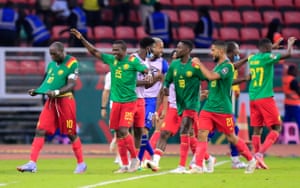 Choupo-Moting's played really well today and he finds Fai out wide. Again, the cross is caressed, directly onto the striker's head, and he thumps down a header that Shanko should probably save, but the bounce takes it above his flailing dive.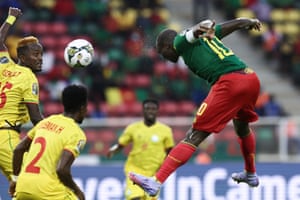 52 min Nasir, who's been Ethiopia's most dangerous player, spots an overload down the left and funnels wide for Hotessa, who gets extremely excited and larrups a riser somewhere towards Chad.
50 min Var wants a look at the challenge and Shanko should worry because he wasn't exactly in control of himself or his two, studs-up feet … but he got the ball, so we leave things as they are.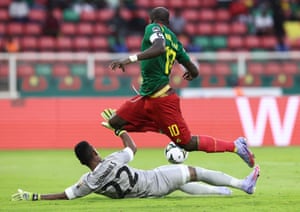 49 min And now here come Cameroon, Choupo-Moting nashing down the right and sweeping a fine low cross into the middle that looks perfect for Aboubakar! But Shanko doesn't wait to be asked, hitch-kicking in, Dhalsim-style, and getting both feet on the ball before Aboubakar can lift it over him! That's excellent keeping.
47 min It's another frantic start, the Ethiopian counter-press regaining possession deep inside the Cameroon half and Solomon hammering a shot from distance that's easily saved by Onana.
46 min Ethiopia send on Solomon for Dagnachew, who played ok but had been booked.
Here's some footage of Ethiopia's 1962 champions.
That was a really enjoyable half, both sides looking for goals. Join me in 10 minutes to see how it shakes out.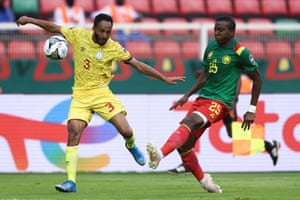 45+1 min Hotessa finds Dagnachew just outside the box and he swipes a shot from distance that Onana can only parry! The ball loops up towards Nasir, but Tolo intecedes before it comes down.
45 min There'll be one added minute.
44 min Dagnachew goes short to Nasir, who's immediately mugged for his lunch money.
44 min Yohanes turns nicely in midfield and lofts a decent ball down the line for Mohammed, whose cross is blocked behind for Ethiopia's first corner.
42 min Ethiopia have been better these last few minutes.
40 min Now Ethiopia counter, Gebremichael leading the charge and for a omoment it's three-on-one! But he holds onto the ball for too long and Ngadeu crowds him out. That is a significant oversight.
39 min Cameroon are coming! First, Ekambi tosses a ball into the box for Aboubakar only for Tamane to stretch it behind before he can apply the finish, the when the corner comes in, Castelletto's near-post run allows him to guide a header punkt against the angle!
38 min Excellent from Cameroon, Choupo-Moting spreading to the excellent Fai, who steps inside and feeds a delicate little inswinging cross for Aboubakar at the back post. But Tamane is wise to the ruse, nipping in to clear. Excellent ball, even better defending.
35 min It's all Cameroon now, pushing on looking to go in front. Ethiopa aren't hanging on, but they're not much of an offensive factor.
33 min Choupo-Moting flicks on well, out to Ngamaleu, and pegs it towards the box. But he can't get to the resultant cross, which yields a corner but comes to nothing.
32 min Aboubakar finds Ekambi, who crosses low to the back stick; Ngamaleu taps in and thinks he's scored, but he was extremely offside.
31 min Our first mention of Roger Milla which, Salako advises us, was in 1994. Twice.
29 min Anguissa sends an uppish poke into the box and Choupo-Moting collects, but he can only drag a shot wide of the near post.
28 min Ekambi flicks past Dagnachew, who brings him down and narrowly avoids a booking ; again, the free-kick is wasted.
26 min Both sides are playing with a high line and looking to get it forward quickly. It's intense, absorbing stuff.
24 min Aaaarrrrgggghhh! Ethiopia are having at this, Gebremichael skating into the box down the right after a fine pass from Johannes, skinning Tolo and drilling a low skidder that Onana can only palm to Nasir … who can't rearrange his feet to finish from five yards!