Celebrated Kenyan athlete Eliud Kipchoge has reunited with UK Billionaire and chairman of INEOS, Jim Ratcliffe, in a bid to claim another Olympic Gold in Paris 2024.
If Kipchoge is successful, he will make history by becoming the first person to win three consecutive Olympic titles. He won the first title at Rio in 2016 and successfully defended it at the 2020 Tokyo Olympic Games.
The new partnership will see Kipchoge work on improving his performance and form in a bid to achieve his goals.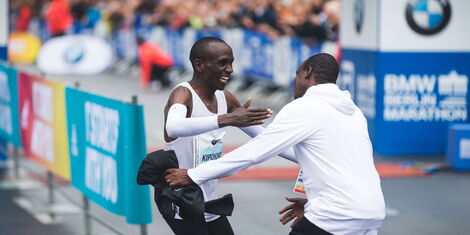 Marathoner Eliud Kipchoge hugs his coach Patrick Sang during a competition in 2018.
nnrunningteam.com
Kipchoge will also reunite with Dave Brailsford, new director of Sports at INEOS Valentijn Trouw and his coach Partick Sang.
Ecstatic about the task ahead, Kipchoge exuded confidence in his team- noting that he would keep pushing the boundaries of running and achieve the impossible.
"To receive the support from such a great entity in sports is a huge boost to myself and the team. We have had a wonderful relationship since we first started working together and have already changed the world together once. I am excited to keep breaking barriers with the support of INEOS on our side.
"I believe that we can make a strong impact across all sports by sharing our knowledge and experiences with each other. To utilise the greatest minds in sports will continue to allow us to keep pushing the boundaries of running. I am very excited for the future ahead," he stated.
Ratcliffe affirmed how pleased he was in working with Kipchoge again after INEOS 1:59. The billionaire pointed out that Kipchoge's dedication and commitment would inspire other athletes.
"Eliud is a very special person with an approach and mindset that transcends sport. We have a close affinity with Eliud after the 1:59 Challenge so I'm pleased to bring him back into the fold. We have a great opportunity ahead of us to support not only his performance goals but understand how his approach can help others achieve theirs," Ratcliffe stated.
Through the partnership, Kipchoge will also work with other teams backed by INEOS including Mercedes-AMG Patronas F1 Team put on the map by Lewis Hamilton, OGC Nice, FC Lausanne Sport, INEOS Grenadiers cycling team, All Blacks and America's Cup Challenger of Record INEOS Britannia.
The idea, according to Brailsford, was aimed at bringing the best minds and experts in the sports industry in order to identify opportunities for performance gains.
"Across sports, we all face the same challenge, the need to continually improve. Through INEOS, we have a unique opportunity to take on this challenge. With some of the best minds in sport we will develop and grow the INEOS performance community, driving to become greater than the sum of our parts," Brailsford stated.
Kipchoge's record breaking run in Vienna saw the athlete run an official time of 1:59:40.2 becoming the first human to break the two-hour marathon barrier. Before the race, the UK billionaire treated Kipchoge to the opulence of flying in a Ksh1.4 billion jet from Kenya to Vienna.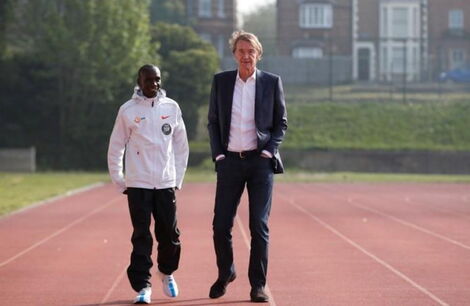 Celebrated athlete Eliud Kipchoge (left) and UK Billionaire Jim Ratcliffe at Iffley Road Sports Centre, Britain on April 30, 2019.
Reuters