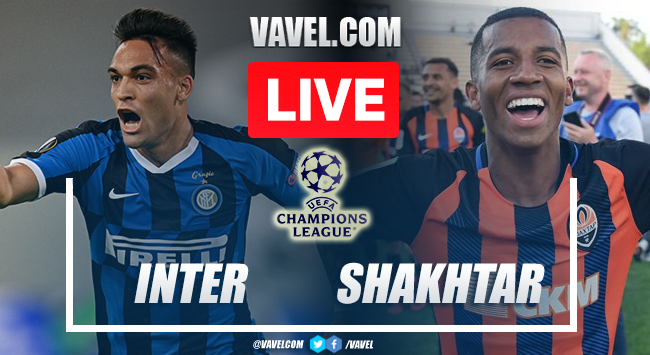 Game over
Inter wins 2 goals to nil and momentarily takes the lead in group D.
90′
Three minutes of compensation are added
86′
Inter double change. Stefano Sensi and Federico Dimarco come in, Hakan Calhanoglu and Ivan Perisic come out.
82′
Close! Shakhtar get a dangerous play and let go the chance for 2-1.
80′
Shakhtar change. In Mijailo Mudryk and Marlos, out come Teté and Fernando dos Santos.
78′
Inter double substitution: Arturo Vidal and Danilo D' Ambrosio enter, Nicolo Barella and Matteo Darmian come out.
73′
Cambio del Shakhtar, Artem Bondarenko entra al campo para darle descanso a Pedro Delmino da Silva
61′
GOOOOOOOOL! Edin Dzeko finally gives the home side the lead in a move generated by himself and Perisic to make it 1-0.
58′
Finally, the special guest of the match arrived, Lautaro Martinez scored a right-footed shot, but the referee disallowed the action. Second goal disallowed in the match
54′
Lautaro Martinez penetrates the small area, asks for a penalty for contact and when the referee does not grant the penalty, he gets up and shoots into the goal.
47′
Perisic is encouraged by the center shot, which Trubin attentively stops the play.
45′
Inter and Shakhtar draw goalless in an attractive duel. Inter dominates but has not been able to reflect it on the scoreboard.
40′
Trubin once again rips Lautaro's goal from Lautaro's grasp when he gets two hands on the ball
37′
Marlon and Lautaro have words with each other, the Argentinian drops in the area claiming the penalty and the defender claims the action.
36′
Lautaro Martinez continues to find space up front but fails to capitalize and Shakhtar continue to be forgiven.
27′
Trubin is already a factor in preventing Inter's goal and denies Lautaro's goal-kick
26′
Double corner for Shakhtar but it doesn't happen, the Ukrainian team starts to respond and the match is back and forth.
16′
Intervention by the Ukrainian backline to cut off a Calhanoglu breakthrough on the left flank
11′
Barella wasted the clearest opportunity of the match, who did not arrive well profiled and sent the ball over the goal.
Kickoff
Inter is on the attack and starts with high pressure from the very first minute.
Shakhtar starting lineup
99 Fernando, 19 M. Solomon, 38 Pedrinho, 7 Maycon, 6 Stepanenko, 14 Mateus Martins, 22 M. Matvienko, 5 Marlon, 3 Vitao, 2 Dodóm, 81 A. Trubin
Inter starting lineup
1 Handanovic, 37 Skriniar, 13 Ranocchia, 95 Bastoni, 36 Darmian, 23 Barella,77 Brozovic, 20 Calhanoglu, 14 Perisic, 9 Dzeko, 10 Lautaro
Dressing room ready!
Absentees
Absentees for the match
Inter: C. Eriksen due to a heart condition, A. Sanchez due to a muscle injury and S. de Vrij due to a thigh injury.
Shakhtar: Dentinho, J, Moraes and L. Traore will not be available due to injury, the latter two in the knee.
Referee
Today's center referee will be Ovidiu Hațegan the Romanian became a FIFA referee in 2008. He was a referee in the qualifiers for Euro 2012 and the 2014 World Cup.
Day 5/6
Inter Milan are set to host Shakhtar Donetsk in the penultimate round of the group stage at the Stadio Giuseppe Meazza.
Tune in here Inter vs Shakhtar Live Score
Saty with us. Do not miss a detail of the match Inter vs Shakhtar live updates and commentaries of VAVEL.
How to watch Inter vs Shakhtar Live Stream on TV and Online?
What time is Inter vs Shakhtar match for UEFA Champions League?
Grupo D
The current situation in Group D keeps Real Madrid in the first position with nine points, followed by Inter Milan with seven points. Sheriff remains in third place with six points and Shakhtar is in third place with only one point.
Welcome to VAVEL.com's coverage of the 2021 UEFA Champiosn League match: Inter vs Shakhtar Live Updates!
My name is Alejandra and I'll be your host for this game. We will provide you with pre-game analysis, score updates, and news as it happens live here on VAVEL