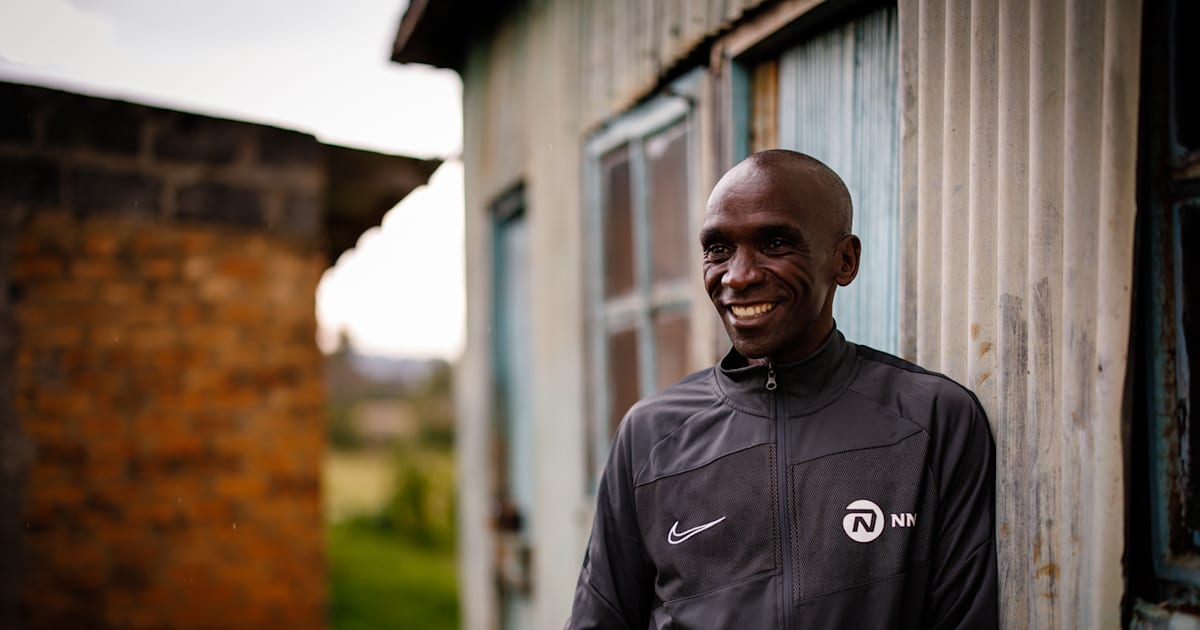 It is tough being the king of the marathon.
Eliud Kipchoge has made the road race look like the easiest of runs.
So, whenever he lines up at the start, expectations are high.
"How fast will you run this time? Is another world record on the way…"
At 37, the double Olympic champion's appetite for success remains the same as it was for his first 42.2km (26.2 mile) race in Hamburg nearly a decade ago.
"I want to run a good race, be it a world record, a personal best, I want it to be it a good race," the Kenyan told journalists on Saturday, September 17, a week before his fifth Berlin Marathon.
Kipchoge will, on Sunday 25 September, pound the streets of the German capital looking to push his limits further and go even faster than his world record of 2:01:39.
"I don't think I am going to run under two hours," he said, making reference to his historic 1:59:40 run on a specially designed course in Vienna where he became the first man to run a sub-2-hour marathon but in conditions which don't qualify as an official world record.
"I am the best one…I am going to Berlin to run a very good race that will make everybody get inspired and love marathons."
READ MORE: Eliud Kipchoge's record breaking career in numbers.
Eliud Kipchoge training in Kaptagat, Kenya. (Photo: NN Running)
Kipchoge on fine tuning his mind ahead of 2022 Berlin race
Eliud Kipchoge is a man who is fully dedicated to the runs he loves.
His discipline in training is unrivalled.
He pushes himself hard on the course.
Of his 18 marathon starts, Kipchoge has only lost twice. His first race in Berlin in 2013, the year he debuted in the marathon, and the eighth-place finish at the 2020 London marathon held on a special circuit during Covid-19 restrictions.
However, nothing comes easy when you are the greatest marathoner.
He's just tapering down his training after four hard months of intense long runs and fartlek – the core of his marathon success.
"Marathon training is tiresome, cumbersome, and very long," he admitted of the long hours of training he puts in at the Global Sports Communication training camp in the small town of Kaptagat, southwest Kenya, where he leads a simple life.
READ MORE: Eliud Kipchoge: The Top 10 marathons of the double Olympic champion
"But the main and basic tactic (to run a good marathon race) is during training and not during the race. If you train well then, your tactics can go well. If you train halfway, even with the best tactics then you can't achieve."
Kipchoge is now physically fit and ready for another big run. As he heads toward the competition week, the Kenyan is now tapping in to what has made him one of the greatest athletes ever, "running with his heart and mind". He has now begun working on the "crucial" part – powering up his mental approach.
"A human being is his mind. When your mind is okay, then your muscles are good. Now I'm trying my best to convince my mind that I've done a thorough training. I have done enough. My legs and muscles are ready. And on the big day, it will be to implement all these things."
READ MORE: Eliud Kipchoge's unstoppable marathon mindset
Kipchoge confident of racing to history again in Berlin
The Kenyan is tipped to make more history on the streets of Berlin by winning a fourth title next Sunday, in another fast time. He will be lining up against the defending champion Guye Adola, the Ethiopian who nearly upstaged him in the closing stages of their 2017 Berlin run.
"I treat myself as the best one," he answered in response to whether competing against a runner who pushed him before could stretch his limits.
Kipchoge, a four-time winner of the London marathon, strongly believes in his capabilities and doesn't fear competition. In most of his races, he has constantly shown that he knows when to shift gears and tilt the tightest of races to his favour.
"I don't go to Google to watch how people run, or YouTube to watch how people are running.
"I trust that I am doing the right thing at the right time. I treat myself on the line that I am the one well trained. I know something else can happen, but I respect my training."
Since that close run, a lot has changed for the maestro of marathon running. He's raced to his fastest runs ever, the world record and "most importantly" successfully completed his 1:59 Challenge.
He also majestically strode to his second Olympic title at Tokyo 2020 in 2021, soon after suffering that first major marathon loss in London.
"What has changed is maybe the way I think," he explained. "I treat marathons in a special way that I still need to run more. The mentality has a changed a bit on how to approach the race, on how to train, but the training is the same, under the same coach (Patrick Sang)."
The plan in Berlin is for Kipchoge to better his personal best. And if he does, he will become the second man after Haile Gebrselassie to set two world records on the flat and fast Berlin course.
He will look to compatriots Noah Kipkemeboi and Moses Koech, who were among his pacers for his epic 1:59 Challenge in Vienna, to help him lower the world record.
"I always say I don't call a world record, but I want to run a good race, be it a world record, a personal best let us call it a good race," he said adding that he will be wearing the Nike Alphafly 2, the same shoes he wore when he raced to a course record at the Tokyo marathon last March.
READ MORE: Tokyo Marathon: Eliud Kipchoge clocks fastest time
Eyes firmly set on Paris 2024
All these runs are building up to his bigger and "very important" goal – the Paris 2024 Olympics.
"Paris 2024 is critically crucial for me. I trust I'll be lining up on and having a lot of energy to run all through the Olympic Games in the next two years"
"It's very important to me because ill be running to make history. Running to tell young people that consistency is what we need. If you perform consistently and at a high level, that's what the world needs."
And after dedication to a life of running, Kipchoge has also been thinking about when to hang up his competition shoes, especially with the flurry of retirements of some great athletes recently including Swiss tennis legend Roger Federer.
"In front of my mind, I know one day I will call time on the sport," Kipchoge offered, saying he hadn't made any decision yet.
"It's good to see those that have been high with a huge following, retiring and venturing on other things. And that's a big inspiration for me, that if you start something then it must have an end. But it needs to end when you have had a huge impact. And I think the world will remember him (Federer) as far as tennis is concerned and promoting the sport."
But until then, Kipchoge will be pushing to win more marathons and break records, possibly starting in Berlin on Sunday.
You can watch his 2022 Berlin Marathon effort live on Olympic Channel via Olympics.com (territorial restrictions apply).