For many sports enthusiasts, the name Kipchoge Keino brings back memories of a true Kenyan athletics legend – an elite gold medalist who flew the Kenyan flag high in the 1960s and in the process, inspired a generation of current athletes.
From smashing world records to scooping gold medals, Keino rose to the upper echelon of the industry at a time when the country was looking to etch its mark in the athletics arena.
However, little is known about Keino's daughter whose story embodies a grass to grace narrative.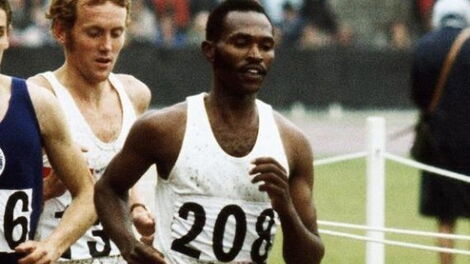 Kipchoge Keino running during the 1968 Olympics in Mexico City.
AthleticsStable/ Twitter
Olympia Keino was born in 1968 in a family of 10 siblings – five boys and five girls. Surprisingly, her date of birth coincided with the day her father won the 1500 metres gold medal at the Olympics in Mexico City- his first gold medal at the time.
The prestige that came with the win led him to name his daughter Olympia. She grew up in Nandi, inspired by her father's zeal, determination and success.
This drove her to follow in her father's footsteps and sought to become an Olympian. However, her performance in school became a setback as she would occasionally flunk in her grades.
While speaking during a past management workshop, Olympia narrated that her grades became worse as at one point she scored grade E.
Her father, who was her source of inspiration, encouraged her not to give up. This lit a fire in her spirit to chase her dreams and gain or surpass her father's success.
The drive and motivation made her improve in class and get Form Four and Form Six certificates. She further advanced her studies, beating all the odd to graduate with a PhD.
While pursuing her studies, Olympia would also train for the track events and participate in local events.
Olympia also teaches at Maseno University at the school of public health in the department of nutrition. She also coordinates HIV programs in order to raise public awareness on the risks of contracting the virus and preventive measures to take.
Following her father's philanthropic nature, Olympia also advocates for the empowerment of the girl child- pointing out that equal opportunities should be awarded to both genders to promote equality.
Keino's other children have also followed suit in the athletics career. His sons, Bob and Martin Keino attended Universities in the USA on athletics scholarships. Keino has in the past heaped praise on Martin Keino, whom he acknowledged for breaking his records.
"Of the three, Martin is the most gifted. So far he has run faster than me in three events: 1500m 3:33.94 minutes, mile 3:52.33 and 3000 metres 7:35.97 minutes. My world record for the latter set in 1965 was 7:39.6 minutes," he stated during a past media interview.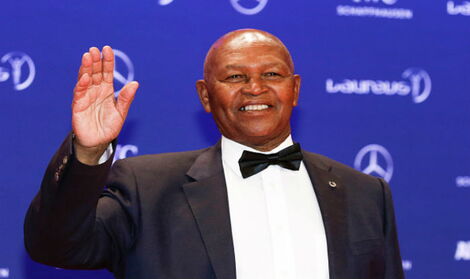 Legendary athlete Kipchoge Keino during a past international conference.
India.com
fire