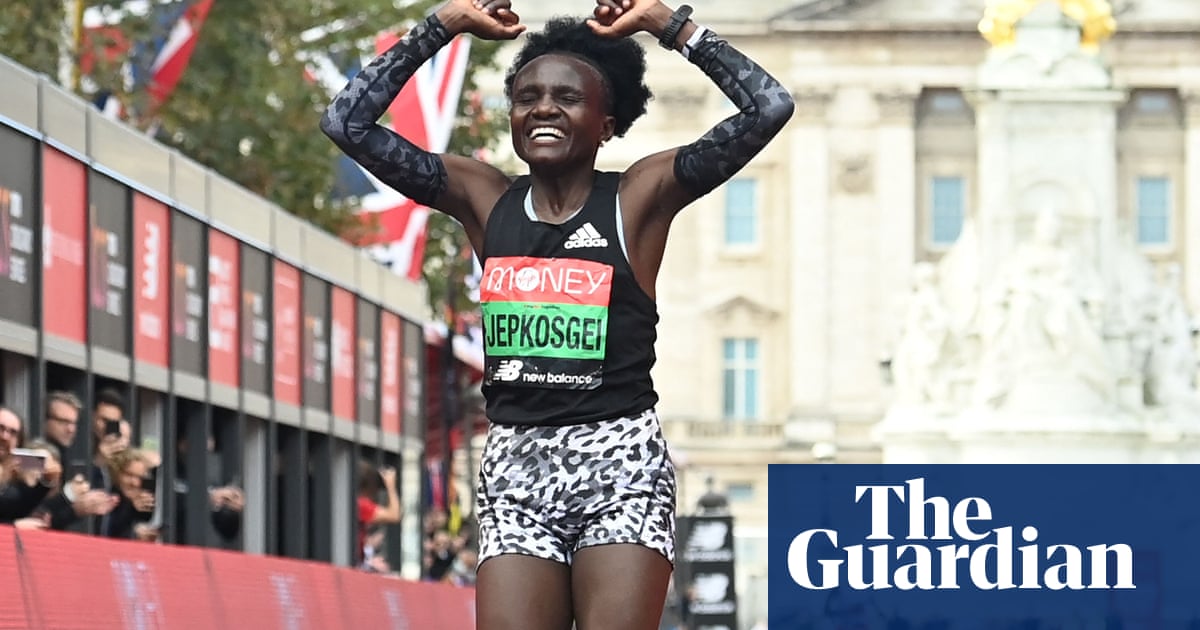 Sisay Lemma has always been the marathon bridesmaid, but never the bride. So having burnt off a high-quality London marathon field, it was only natural for the 30-year-old Ethiopian to ease up in the final few strides to bask in the crowd's applause and give a regal wave in appreciation.
But shortly after Lemma crossed the line in 2:04:01, 27 seconds ahead of Kenya's Vincent Kipchuma in second he was struck by a painful realisation. Those two seconds had cost him $25,000 in extra time bonuses that he would have earned for going under two hours and four minutes.
The most expensive wave in athletics history? Quite possibly.
To make matters worse, Lemma was also unable to celebrate his shock victory on the podium. Because his fellow Ethiopian Kinde Atanaw failed a Covid-19 and was withdrawn from the race on Saturday – and was also deemed one of his close contacts – Lemma was immediately spirited back to his hotel.
It led to the strange sight of his agent, 67-year-old Italian Gianni Demadonna, standing on the podium holding flowers and looking highly bemused. He was not alone.
Speaking afterwards, event director Hugh Brasher said the decision had been taken on advice from Public Health England but that it had been safe for Lemma to start as he had passed a Covid test. But at least the Ethiopian will be well compensated – not only by $55,000 first prize but another $50,000 for running under two hours and five minutes.
But not getting the $75,000 on offer for a sub 2:04 marathon – due to that wave – will surely continue to sting.
There were also smiles from Phil Seseman, a junior doctor in the NHS, who finished seventh in his debut marathon to finish as the top male Briton. For good measure his time of 2:12.58 also dipped under the 2022 Commonwealth and European championships qualifying standard.
Meanwhile the women's race was so deep that an 11-strong pack was together halfway in 68.51 before five runners – world record holder Brigid Kosgei, Joyciline Jepkosgei, Lonah Chemtai Salpeter, Ashete Bekere and Degitu Azimeraw – broke clear.
They were still together until 35km when Jepkosgei, who was on fresher legs than many of her rivals after missing the Tokyo Olympics, surged clear to win in 2:17:43 – 15 seconds clear of Azmeraw. It was the seventh fastest time ever.
"This is the greatest performance of my career," said Jepkosgei. "I know London is a major race in the world so I am so happy. I dedicate this win to my child, and my coach."
But one of the most uplifting performances of the day came from Charlotte Purdue, who ran a barnstorming second half of the race to come home in 2:23:26, the third fastest ever time by a Briton.
Afterwards she raised her finger in triumph. But it could have easily been an index finger aimed in the direction of British Athletics selectors who strangely left her out of the Tokyo Olympics team after calling her injury prone.
"I definitely feel vindicated," she said afterwards. "I feel I deserved to be in Tokyo. Obviously I wasn't selected but I put all my emphasis on this race as soon as I wasn't. This was my Olympics."
Her brilliant performance was also just 14 seconds outside by the second-placed time Mara Yamauchi, who tweeted to Purdue to suggest that it was only a matter of time before she broke it.
And Purdue clearly agrees. "It is annoying but I feel like I can still get it. I think if I was to run maybe in a mixed race with male pacers it would help because after 30k I didn't really have anyone. My partner Adam has said he'd pace me for a marathon and that he'd run every step of the way, which I've never had before."
Her run means that she qualifies for next year's World Championships in Eugene. However Purdue hinted that she could go for the Commonwealth Games or European Championships instead to increase her medal prospects.
"f I could maybe get a medal at the Europeans would that be better than top 10 in the worlds? I don't know," she said. "I spoke to Mara and she said if she had one regret it was that she didn't go to the champs where she could get a medal."
In the wheelchair races Switzerland's Marcel Hug and Manuela Schar both set course records as they won the men's and women's events. Britain's David Weir was third in the men's race.