Les Bleus won the 2018 World Cup
With the FIFA World Cup fast approaching, defending champions France are one of the favorites to retain the title. They can become the third nation to win successive championships after Uruguay (1934, 1938) and Brazil (1958, 1962).
This will be their sixteenth appearance in World Cups, having previously won the competition on two occasions (1998, 2018). Let's take a look at the French players leading their all-time goalscoring charts.
10. Youri Djorkaeff
Goals: 28
Appearances: 82
Where is he now: Retired, FIFA Foundation CEO
The current FIFA Foundation CEO, Youri Djorkaeff had an illustrious career playing for France. He was part of the France team that lifted the 1998 FIFA World Cup. He also played club football in England, Germany, and Italy.
Djorkaeff was an elegant and technically-gifted player who usually played as an attacking midfielder but could play behind the striker or even as a striker. He was nicknamed The Snake due to his ability to curl the ball and swiftly dribble past a player. He often featured on the left flank as a winger at the international level for France. Djorkaeff accumulated 82 apps and scored 28 goals for France at the senior level. He featured for France in the 1998 FIFA World Cup, and was also part of the French squad that won Euro 2000. Kylian Mbappe is also on 28 goals for the French national team.
9. Jean-Pierre Papin
Goals: 30
Appearances: 54
Where is he now: Retired, Manager at C'Chartres Football
Ballon d'Or winner in 1991, Papin had a hugely successful spell at Marseille between 1986–1992. Known as a pacey and lethal striker during his playing days, he scored all kinds of goals but was particularly known for his volleyed goals. Jean-Pierre Papin made his international debut in 1986 versus Northern Ireland. He appeared at the 1986 World Cup, helping France finish third that year. Papin had scored an impressive number of goals during his 9-year international career.
Papin scored 30 international goals in 54 matches, a career that saw him feature in the national team for the 1990 and 1994 FIFA World Cups.
8. Just Fontaine
Goals: 30
Appearances: 21
Where is he now: Retired
Just Fontaine still holds the record for the highest number of goals scored by a player in a single World Cup tournament. In the 1958 World Cup, the forward scored 13 goals in just six matches, which included scoring four past defending champions West Germany.
Fontaine made his international debut in December 1953 and went on to play just 30 games for his country, scoring 21 times during that period.
Plagued with a reoccurring hip injury, he was forced to retire at the peak of his career, at only 28 years and 11 months old. Winning Ligue 1 four times with Nice and Remis, he was one of the great French strikers to have never won an international trophy.
7. Zinédine Zidane
Goals: 31
Appearances: 108
Where is he now: Retired, Managed Real Madrid in 2016–2018 & 2019–2021.
One of the greatest players of all time, Zinedine Zidane had great fundamentals and techniques of the game. He had great ball control, unmatched dribbling skills and excellent vision. During his playing years, he became the best player when it came to controlling and receiving the ball.
Zidane made his France debut against the Czech Republic in 1994, scoring two goals. Capped 108 times by France, Zidane won the 1998 FIFA World Cup, scoring twice in the final which saw him win the Ballon d'Or that year.
Zidane's international career came to an end most dramatically as he head-butted Marco Materazzi in the 2006 FIFA World Cup final against Italy, leading to a red card. Italy won the World Cup after beating France 5–3 in a penalty shoot-out following a 1–1 draw after extra time.
Zinédine Zidane is one of just eight players to have won the FIFA World Cup, the Champions League, and the Ballon d'Or.
6. David Trézéguet
Goals: 34
Appearances: 71
Where is he now: Retired
David Trezeguet won the coveted FIFA World Cup trophy on his first appearance in 1998. He was part of three World Cup campaigns for France, in 1998, 2002, and 2006.
Trezeguet was a complete striker who had excellent positioning – he took advantage of half-chances and loose balls in the area, and was known for his clinical finishing.
Trezeguet had huge success for Juventus, playing for the Old Lady from 2000 to 2010, scoring 138 goals in 245 appearances. Similarly, he did exceptionally well playing on the international stage for France. During his eight-year spell for the national team, he scored 34 goals in 71 appearances. The most noteworthy moment for Trézéguet was at UEFA Euro 2000, when he scored the golden goal in the final against Italy.
5. Karim Benzema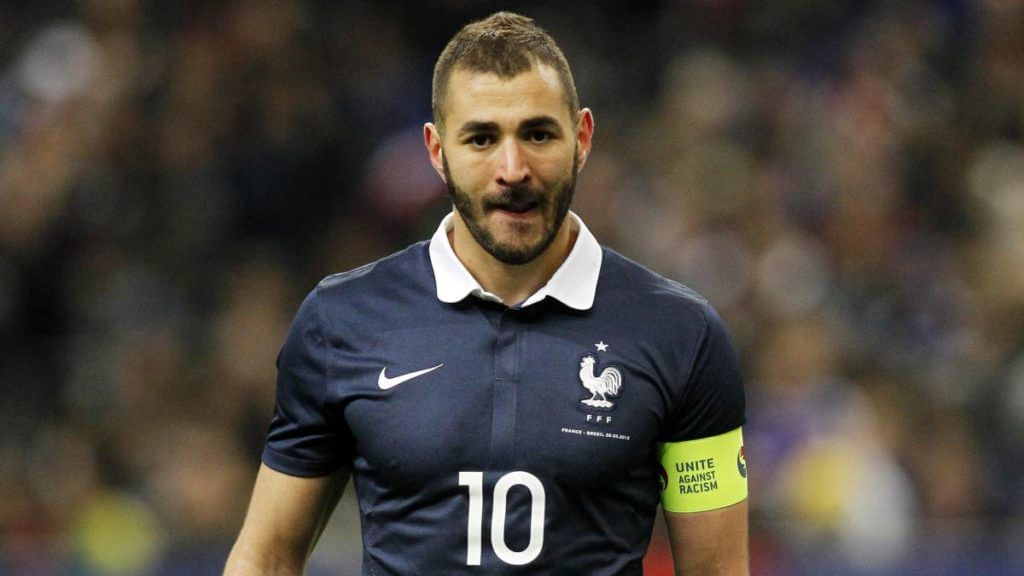 Goals: 37
Appearances: 97
Where is he now: Real Madrid
Benzema is one of the best forwards of his generation, known for both his finishing and playmaking. He is a prolific striker who can play multiple positions in the attacking third – as an attacking midfielder, a deep-lying forward, and even on the wings.
Benzema as a youth player won the 2004 UEFA European Under-17 Championship and made his debut for the French national team in November 2007 against Austria. Having represented France for two World Cups in 2010, 2014, and in Euro 2012, he was omitted from the squad for Euro 2016 and 2018 World Cup due to a sex-tape scandal.
After a five-year suspension from the national team due to the scandal, he was recalled in France's 26-man squad for UEFA Euro 2020.
In 2022 World Cup qualifiers, Benzema's brace against Kazakhstan saw him overtake David Trezeguet to become Les Bleus' 5th all-time top scorer with 35 goals.
With World Cup 2022 approaching, Benzema is one to watch out for as France is one of the favorites to win the tournament.
4. Michel Platini
Goals: 41
Appearances: 72
Where is he now: Retired
Michel Platini won three consecutive Ballon d'Or Awards in 1983, 1984, and 1985. Platini is one of the finest playmakers in football history, known in particular for his ball control, technical ability, range of passing, and vision.
Platini received his first call-up to the national team in 1976. In 1982, he led France to a 4th place finish at the World Cup. Two years later in 1984, he was the leading scorer in the European Championship, helping France win another major international title. From 1976–1987, he scored 41 goals in 72 appearances for France.
Platini retired from playing in 1987 as the country's all-time leading goal scorer with 41. Interestingly, he came out of retirement for one day on November 27, 1988, to represent Kuwait.
3. Antoine Griezmann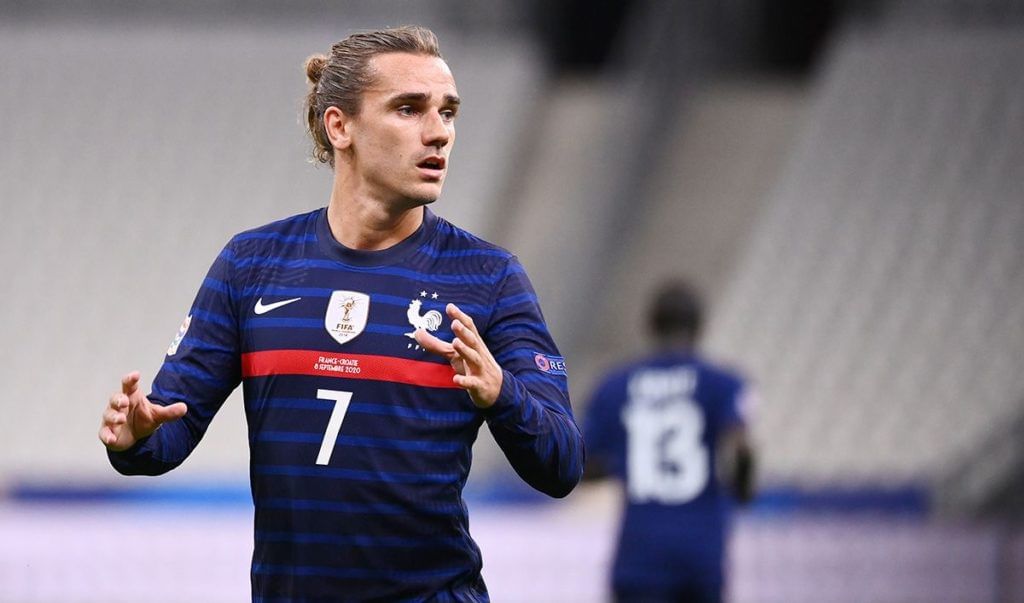 Goals: 42
Appearances: 108
Where is he now: Atlético de Madrid
A versatile left-footed attacking player capable of occupying several offensive positions in or behind the striker, Griezmann can be described as a team player with great work rate and technical prowess.
Griezmann received his first call-up to France's senior squad in 2014. In 2016, despite winning the Golden Boot, France lost in the final against Portugal at Euro 2016. The team got its World Cup glory in 2018 as Griezmann performed throughout the tournament. His best performance came in the final against Croatia, as he was involved in almost all the goals France scored in a 4-2 win.
Since joining the senior squad under Didier Deschamps in 2014, Antoine Griezmann has made 108 appearances, scoring 42 times. He has also contributed with 31 assists.
2. Olivier Giroud
Goals: 49
Appearances: 113
Where is he now: AC Milanhttps://khelnow.com/tag/ac-milan/
The most underrated striker of his generation. Giroud is generally deployed as a striker or as a center-forward. With great movement off the ball, he creates spaces for his teammates. With great consistency, he averages 0.43 goals per match on the international level, even from the bench, gaining him a super-sub reputation.
Giroud never received youth caps for the France National youth team. In 2011 though, after impressive performances for Montpellier, he got his first call-up to the senior team.
Since then, in 113 appearances, Giroud has found the net 49 times – most of them at pivotal movements in France's footballing history. In 2022, Olivier Giroud became the oldest scorer in France's history, scoring a headed goal against Austria at 35 years and 357 days.
Giroud is now only two goals behind Thierry Henry's France record of 51.
1. Thierry Henry
Goals: 51
Appearances: 123
Where is he now: Retired, Assistant Manager of Belgium football team
A legend of the game, Henry is of the greatest players France has ever seen. His ability to dribble past opponents with exceptional pace, skill, and composure made him a constant threat. He made his international debut against South Africa back in 1997, immediately impressing the manager as he was called up for the 1998 World Cup squad.
Winning a World Cup in 1998, European Cup, and Confederations Cup in 2003, Henry always scored winning goals for his team in clutch encounters. He surpassed Michel Platini's France goal-scoring record in 2007, with a total of 51 international goals.
With a total of 123 caps, Henry became one of the eternal greats for the French faithful.
For more updates, follow Khel Now on Facebook, Twitter, and Instagram and join our community on Telegram.