Cristiano Ronaldo's arrival at Manchester United was one of the biggest news of the transfer window. However, despite the legendary player's arrival, the club has had a shaky start to the season. And even though the arrival of Cristiano Ronaldo has raised the club's overall mood, things have not gone well.
ADVERTISEMENT
Article continues below this ad
United have lost a Champions League tie against Young Boys, lost to home vs Aston Villa while depending on CR7 to score a late goal against Villareal to claim the victory. Moreover, they drew their game against Everton today at Old Trafford; and to make matters worse, an Everton player took a banter on Ronaldo's celebration.
ADVERTISEMENT
Article continues below this ad
Andros Townsend steals the show
During the 64th minute, Everton scored an equalizing goal as Andros Townsend drew the game with a lightning-fast counterattack. After some good work by Demarai Gray on the flanks, central midfielder Doucoure took the ball and drove past the midfield. Soon after, he laid the ball to Townsend's feet as he unleashed a right-footed shot into the far post.
Moreover, the thing that caught everyone's eye was when he mimicked Ronaldo's famous 'Siiiiiuuu' celebration in front of the United fans. This seems to be the new trend as opposition fans and players have been mimicking the forward's infamous celebration.
Townsend has been in fine form this season, scoring three goals as Everton climb up the table to be fourth.
DIVE DEEPER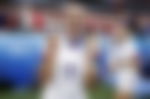 Cristiano Ronaldo does not start
The principal talking point was at the beginning of the game. United manager Ole Gunnar Solskjaer did not include Cristiano Ronaldo and Paul Pogba on the team sheet as they came on in the second half. Even though Ronaldo has been in fine form this season, his exclusion raised eyebrows.
ADVERTISEMENT
Article continues below this ad
Nevertheless, his notable contribution came during the 89th minute, when he flicked the ball to Jadon Sancho, who then put in a tame effort towards Pickford. Thus, United seemed to be in big trouble and eventually could not secure the win. The team selection would be the biggest talking point, considering the form Everton was in.
ADVERTISEMENT
Article continues below this ad
United is in big trouble now and despite signing some incredible players, including CR7, the club has not performed well. After all the hype surrounding Ronaldo, it seems the club still cannot win matches. However, it's a long season and anything can happen. Therefore, United would hope to get back to winning ways to get their season back on track.
WATCH THIS STORY- The Best PlayStation, Xbox, and PC Game Releasing in October 2021